Woooo!! So I'm excited!! Are you excited!! For I'm updating when I said I would update!! I'm super proud of myself for not procrastinating too much this time!! Sorry, I'm just happy! Hopefully I'll be able to keep this up!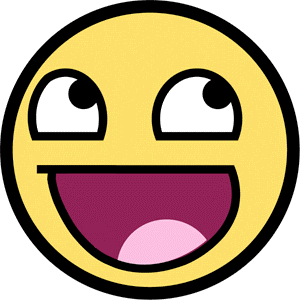 Okay, so first up, I'm going to start a new blog channel (I know I hardly use the other ones). I was given a 5000 question survey to do, so I though that would be a fun thing to post on the blog. Granted, I'm going to break it up into smaller parts. I was thinking about it though, and it would be weird to have those post randomly between my "normal" posts, so I thought I could do an entire different channel (I know that's what their called on YouTube, but I don't know what to call them on here). Anyways, I'll start that sometime soon. I think I'm going to come up with a schedule, like to 10 questions every Monday or something like that. Although, I should probably do more than 10 if I don't want to be filling out the survey for forever. As I was thinking though, I've posted surveys and quiz things on here before, so I thought I could just start posting all those things on my new blog. I haven't created it yet, but I'll link you to it in my next blog when I get it figured out and post for the first time!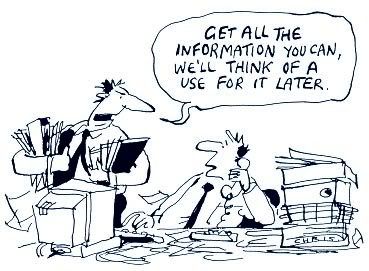 Just another small drabble, but I finally was able to find the small index/blank flash cards that are common in Asia and used mostly for vocabulary words. They aren't whole punched, but I thought I could start using them to help supplement my Korean and Japanese vocabulary. I already have Kanji flashcards, Hiragana/Katakana flashcards, and Hangul flashcards, so I thought this would be the next step (although I haven't finished the Kanji cards)! I'm really excited to start it, so I was thinking of starting out with key words for the Korean set. So, if anyone has a list or anything to suggest, please do! I need all the help I can get to learn Korean, especially since there isn't a class offered at my school.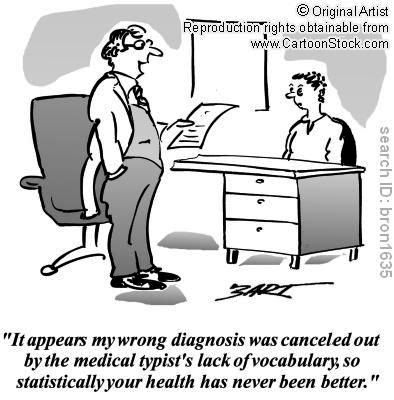 Moving on, my Aunt Rowie and Uncle Jerry came down from San Diego (California)!! Wooooo!! I was sad we only got to hang out a couple times and not for very long, but it was still really fun! First off, Thursday night we went to Red Robin for dinner. It wasn't just a fun dinner though, we were also celebrating my Grandmother's birthday which was on the 31st of July! It was really fun catching up! I was really excited for my sister to see Rowie though. She hasn't been able to see her as many times as I have and get as close, so it was really neat to see Rowie see how grown up Ariel has become! (UWAH! I just started tearing up! I'm such a sucker for these things! It made me really proud of my baby sister seeing how grown up she is and all her plans for life!) Anyways, it was also really neat to update her on everything that's been going on in my life too! I was thinking, and the last time she came out to Colorado was my graduation. That was four years ago! I wish she lived closer or we were richer so we could visit her more often! I just hope I get into the Grad School I want, so then I'll only be a couple hours away! But anyways, it was a lot of fun! Rowie and Jerry were surprised because I got a Peach Daiquiri and they were both exclaiming how weird it was that I was drinking! I guess the last time they saw me I wasn't even 18 yet!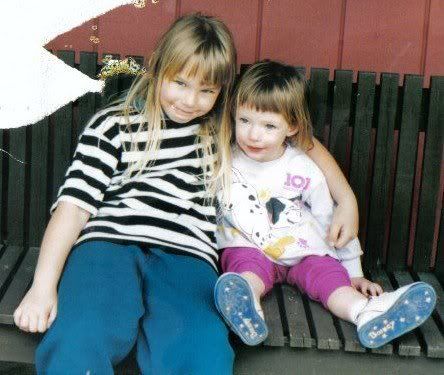 My sister and I when we were young!
We didn't hang out on Friday unfortunately because my Mom and I couldn't take off work. We did get together on Saturday though! We had lunch at Qdoba and then we went to a park! Qdoba was fun, and we got to talk about more personal things like how life was and then just goof off some more!! The park was really fun. Although, at one point I got bored and slap happy at the same time, so I was just running around like a little 5 year old playing on everything. We're talking I was swinging (which I always do at parks), then on the basketball playing with an imaginary ball, then walking along the patch next to the creek only to get distracted by a squirrel, then dancing with my sister to these huge ants and leaf statue! Of the corny person I am, lied down in front of the leaf statue and waited for my aunts to come over. Once all of them were there I said "Fan me my aunts/ants!" They all just looked at me like I was weird and lame, but I was having fun laughing my butt off! The ant statues had weird faces, so when I lied down on the leaf I told my sister that they had knocked me out and I was their sacrifice and they were going to eat me alive. My sister just agreed and said they had creepy faces too, but I'm still not sure if she was just pacifying me! Anyways, we took lots of pictures with the ant statues. Then, they wanted to hear me sing some Korean and Japanese songs. I ended up doing Sorry Sorry and having my Mom and Sister do the dance with me! Although, after the chorus, I wasn't too sure of the dance, I did an imitation of
Yesung dancing
. Anyways, I found out afterwards my uncle video recorded it. Oh noes! I'm not sure if I'll share the video or not yet...I haven't seen it...GAH! It was sad to see them go and I hope we can get together sometime soon!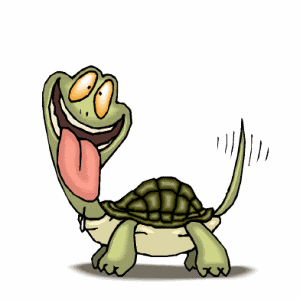 When I googled hyper person this popped up & I liked it!
So for a quick news and preview for my next post, the Drum Corps International 2011 World Championships is this week!! The fun starts on Thursday and ends Saturday. Unfortunately I won't be going to it (since it's in Indiana and a lot of money), but we can see a live broadcast of Thursday's events in the movie theater, so my family and I are heading to that! So sometime this weekend or early next week I'll update about the ending scores and my thoughts on what happened and such! I just can't wait to see how much SCV and Phantom have improved. Plus, I'm excited to see The Cavaliers finished drill and the crazy upside down tenor feature!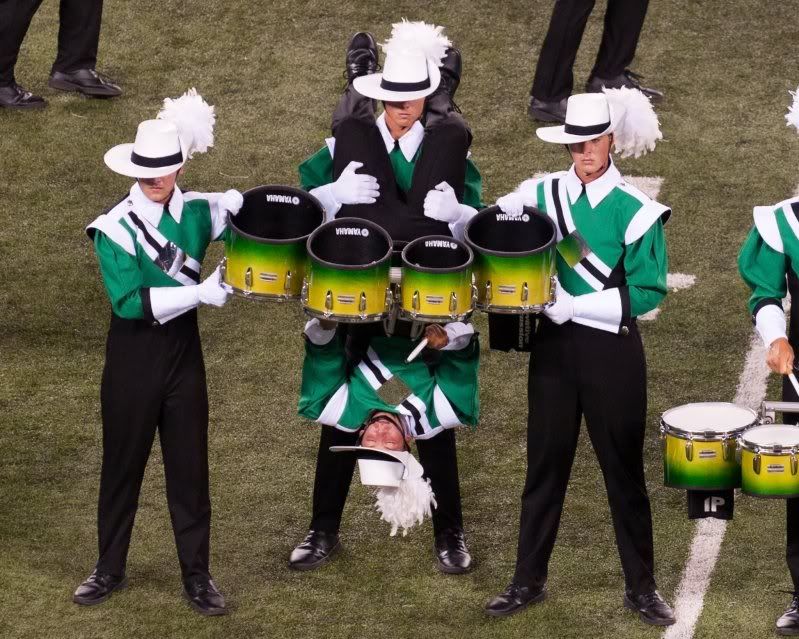 Crazy upside tenor feature. Credit to The Cavaliers twitter!
As for Skip Beat! news, the new chapter still hasn't come. It still a couple weeks away! It comes out right before the beginning of the new semester, so hopefully I won't be too distracted and not be able to read it for a bit! Thankfully there's been so much going on I've been distracted from the waiting! As I mentioned last post, they've finished the filming. There have been tweets that it should be coming soon, so I'm hopeful that it'll start airing before the end of the year! I can't wait to see it! Although, I hope it'll all be in one language. I don't know if you remember the preview, but it was half Korean and half Chinese. It was a little odd. We'll see!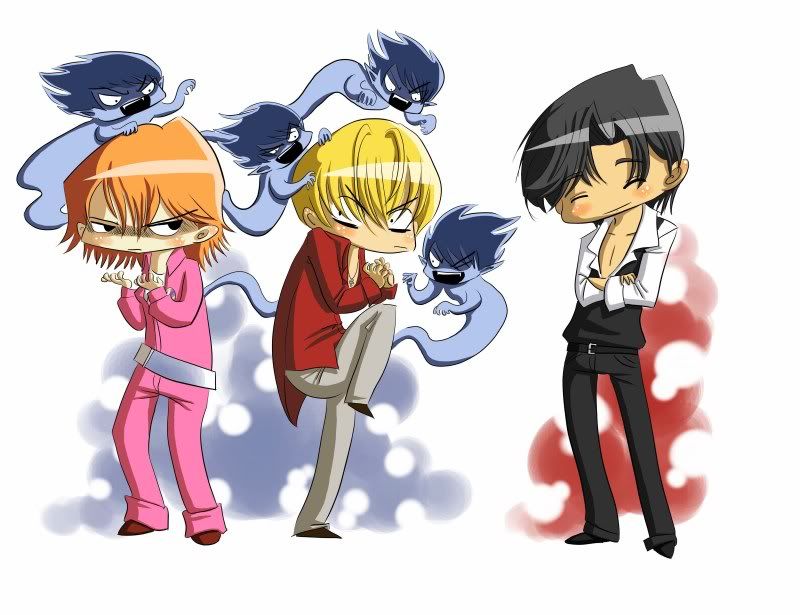 Cute Skip Beat! chibis! Plus Kyoko's demon things!
Okay, and lastly (as always), fangirl time!! There isn't much Arashi things lately, so I'll just get right into Super Junior! First off, the official MV has been released!! Wooooo!!! It's so good!! I'll give you the link
here
! I won't post it on the blog though because I want to help increase the views! It's only been out a few days and we're already over 4 million views. There have been tweets going around and now ELFs are going to try to get the view count to be the highest ever! The current champ is Justin Bieber ( *throws up* ), so we definitely need to surpass him! Also, last weekend was Super Junior's comeback on the weekly music shows! There weren't on Mnet M!Countdown last week, but they will be this week. If you click on the names of the shows, you can watch
KBS's Music Bank
,
MBC's Music Core
, and
SBS's Inkigayo
comebacks!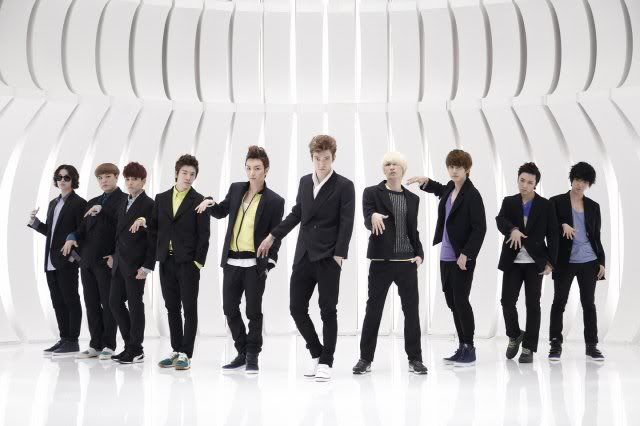 Okay, and for my last update, my package will be here very very soon! I got the tracking number for it, and the estimated delivery is the 11th! I've been checking it everyday, and a couple days ago it reached Alaska! I was super excited! I was telling everyone that it was on American soil! Granted it was in Alaska, but I was still super stoked! I'm just sad that I'll be gone that day. Hopefully my roommate will be home when they come to sign for it. I might have to wait a couple days before I get it and can be home otherwise. Anyways, I'm sure my twitter will be updated quickly and rapidly when I get them! I can't wait to look through everything and spaz!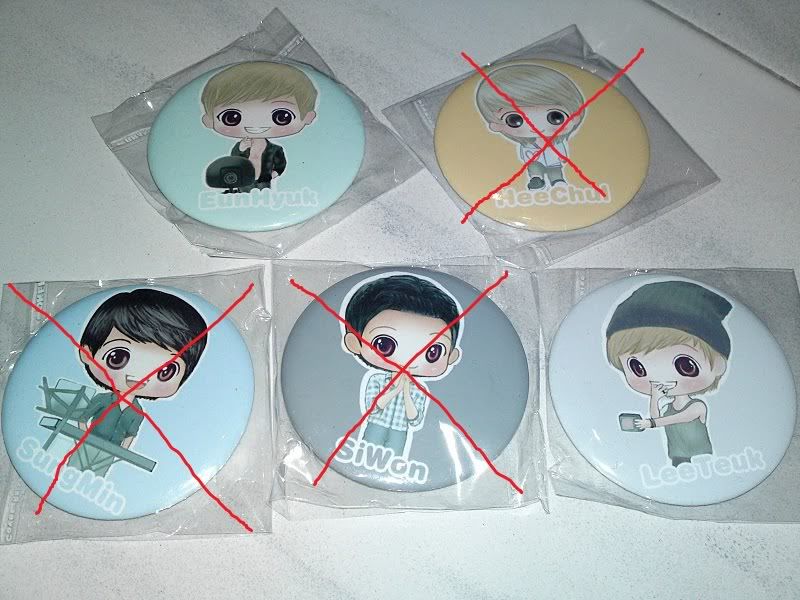 I got the Leeteuk & Eunhyuk badges!
So I'll wrap up things here since I'll be posting again in a couple of days! As always, I leave you with a gif! This time I bring you the wonderful Kangin playing with the glass when DJed a radio show! I can't wait until he gets out of the military in a year! XD
Ja ne~~
Stasi